May 07,2019 Juno Ecommerce
A tour of our new site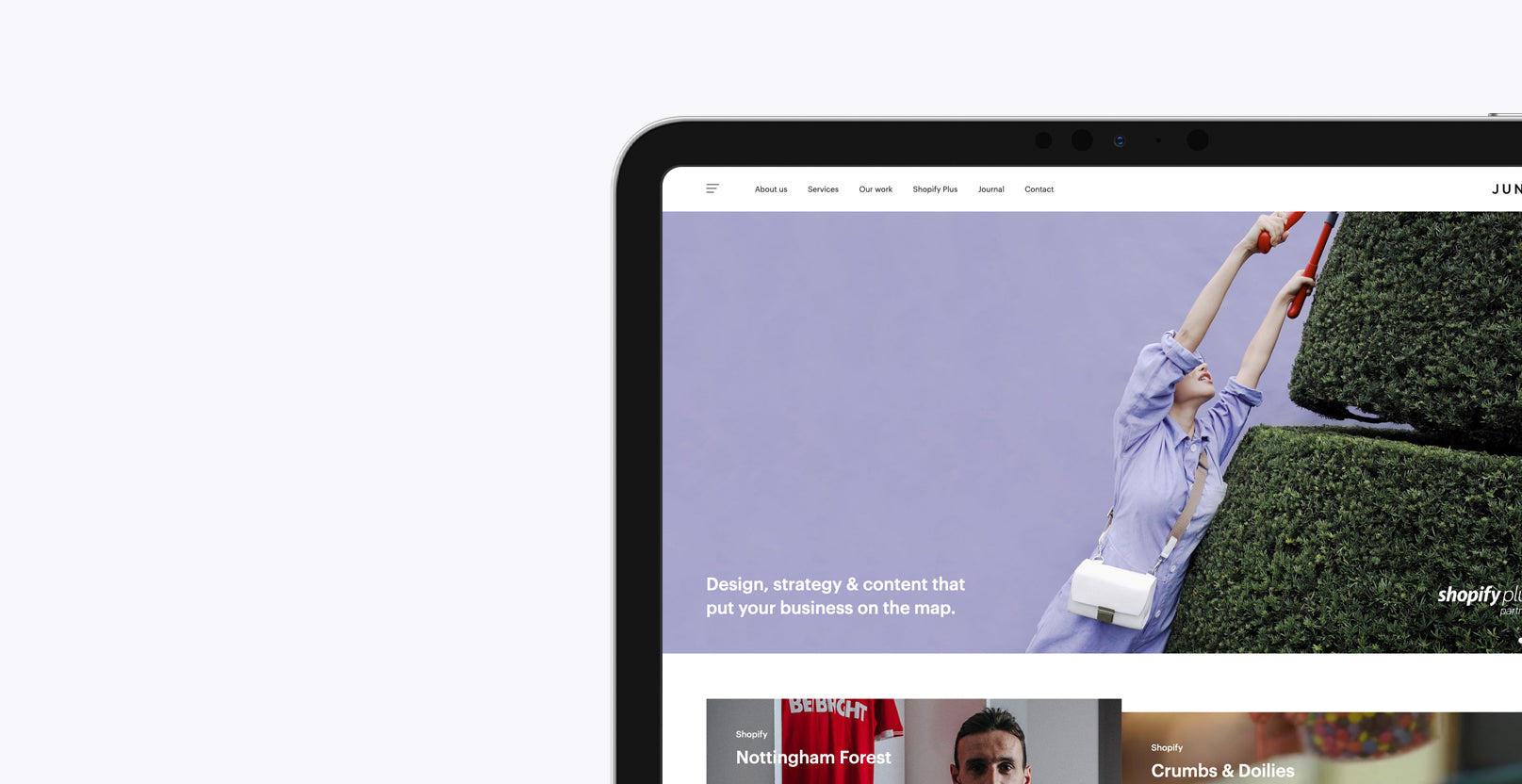 We design a lot of incredible websites (if we do say so ourselves), and 2019 has already seen a host of exciting new launches, including Nottingham Forest, Evotech, Baujken, and Isabella Oliver.
Now, it's our turn.
We've given the Juno site a complete design overhaul, with a minimalist style, fresh content and a brand new blog.
A beautifully minimalist design

Although our old site served us well over the past few years, we couldn't be happier with our look. Clean, minimalist and utterly beautiful, the design champions white space, with large immersive imagery to showcase our wonderful Shopify sites.
An animated pull-out menu displays secondary pages and social links, and the mouse-over zoom effect on images and videos gives the site an interactive feel.
An updated list of services

A lot has happened at Juno over the past couple of years. We expanded our digital marketing team, became a Shopify Plus partner, and joined forces with award-winning animation company Bottletop.
With all this bubbling away behind the scenes, we thought it was time we update our services page with our new list of offerings. From content marketing to branding – and all the wonderful stuff in between – we can work with you on every part of your project.
Check out a full list of our services here.
New case studies

Over the past few months, we've had the joy of working with a multitude of wonderful clients. We've written case studies for our most recent Shopify launches, including details about each brand's bespoke theme.  
Here are some of our favourites:
Chinti & Parker

Chinti & Parker aren't your average high-fashion cashmere brand. What started as a way to reinvent the cashmere market has now garnered a customer base of celebs, including fashion-icon Alexa Chung. As a luxury brand "with a twist", we built them a Shopify Plus site celebrates everything that makes them different.
Read the full case study here.
Crumbs & Doilies

Crumbs & Doilies' colourful cakes are incredibly good-looking, so we designed them a site that's just as attractive. The homepage immediately immerses you in a gorgeous pastel colour theme, with tempting product imagery and a clear call-to-action. Layered imagery and a zig-zagged product carousel keep the layout unique, and an embedded video section lets customers see the latest videos from the brand's founder, Cupcake Jemma.
Read the full case study here.
Nottingham Forest

With a clean, graphics-led design and a photo-centric homepage, the Nottingham Forest site is geared toward their audience of sports enthusiasts. The bold red-and-white theme sits perfectly with Nottingham Forest's branding, finishing a site that's by far one of the best in the field.
Read the full case study here.
Evotech

Although Evotech had recently had a new Shopify Plus site, the design didn't give their customers a clear shopping journey. We restructured the site's navigation to make their user's journey as simple and quick as possible, allowing customers to refine their search as soon as they land on the homepage. We also helped the Evotech team get more from their Shopify site, unlocking new features and extending the platforms' drag-and-drop editing functionality.
Read the full case study here.
The Juno journal

We have a wealth of expertise and insights in the Juno team – so it seems only right we share this knowledge around. That's why we've created the Juno journal: a new, better-than-ever blog to celebrate our team's varied skillset.
The new blog layout makes it easier to navigate our range of educational resources, with the option to search the archives or refine by your favourite topics.
Check out the journal here.