Nov 04,2020 Juno Ecommerce Ecommerce Marketing Shopify
How to prepare for Black Friday 2020 in a climate of uncertainty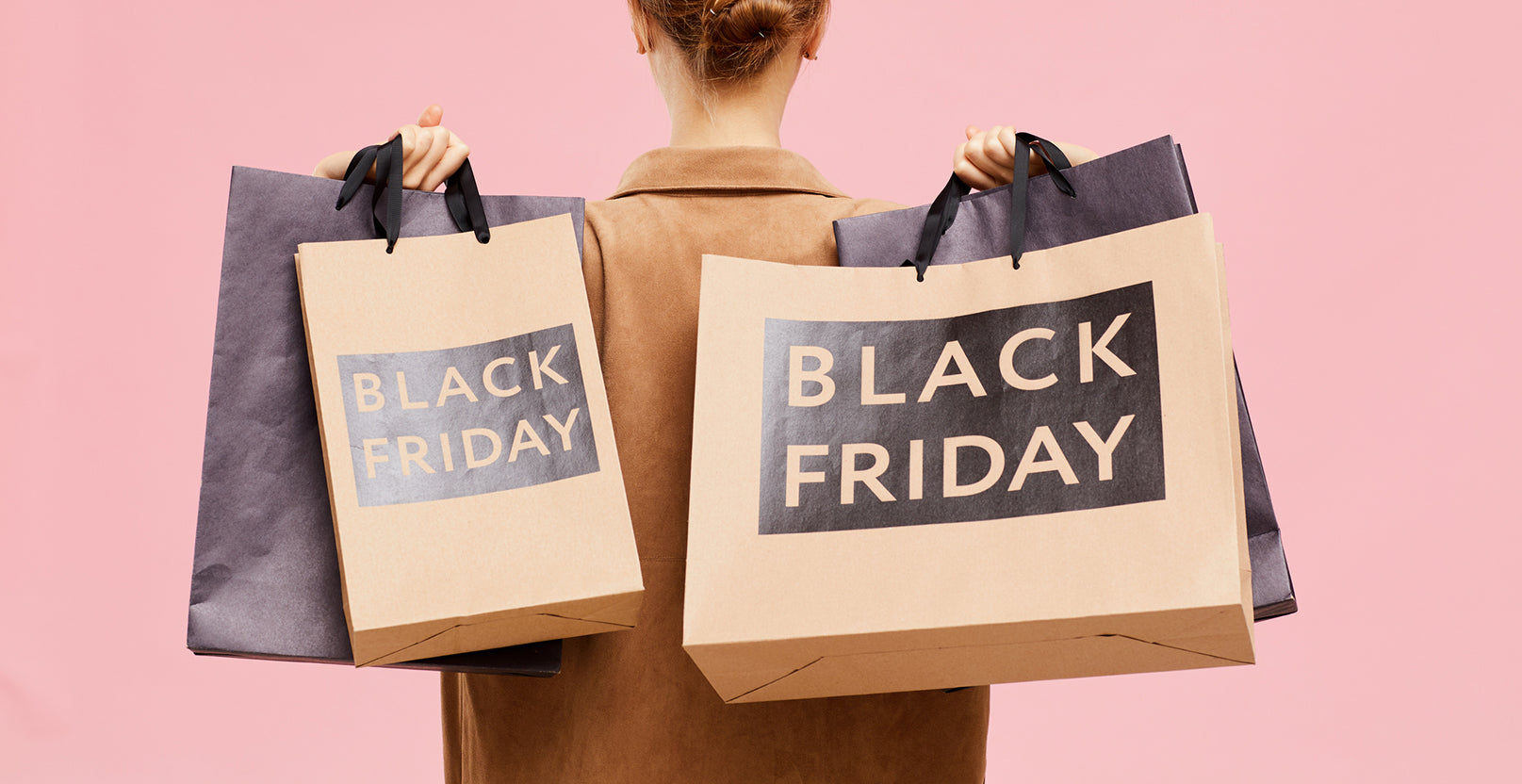 Since its introduction to the UK in 2010, Black Friday has steadily grown in popularity, accounting for an average increase of up to 1708% in sales compared to regular shopping days. Categorised by a weekend of promotions, Black Friday marks the start of the festive shopping season – a slew of sales before brands go full-steam ahead with their Christmas campaigns.  
But in the wake of the global pandemic, this year's Black Friday event (and the festive season as a whole) is shrouded in uncertainty. After months of local restrictions, brick-and-mortar stores have been hit with another national lockdown, leaving in-person Black Friday shopping almost completely off the table. And the impact isn't limited to the high street – ecommerce stores have felt the hit, too. Cancelled spring and summer plans meant that categories like occasionwear and holiday clothing saw their sales fall drastically, leaving businesses with warehouses full of unsold stock. Compounded by job losses and economic uncertainty, the retail industry is struggling to regain its footing. 
Which means this year's Black Friday is more important than ever. 
7 ways to make Black Friday 2020 work for you

As the festive shopping season approaches, brands have the opportunity to win back some of the sales they lost to the pandemic. But it won't be enough to rinse-and-repeat previous years' campaigns. To really make the most out of their sales this year, businesses will need to be a bit more strategic. 
From trend-led discounting to extra online support, here are some top tips for maximising your sales on Black Friday 2020. 
1. Load-test your site 

Every year, businesses battle to get their tech infrastructure ready for the surge in traffic that Black Friday brings. And with all non-essential UK stores forced to close over Black Friday weekend 2020, it's safe to say brands can expect more online traffic than ever before. 
If you're on a platform like Shopify, you don't need to worry too much about overloading your site. With unlimited bandwidth and extra support during peak sales, Shopify is especially good at offering merchants a robust Black Friday experience. 
However, it's still a good idea to do your own load-testing, just to be safe. You can do this with tools like k6 Cloud, which gives you an easy way to test and monitor your site's performance over time. You should also take this opportunity to run some speed tests with PageSpeed Insights to make sure your site is performing at its best. 
Source: k6 Cloud
And it's not just about your website. Any systems connected to your online store – such as your ERP or WMS – also need to be ready to handle a surge in orders. If one platform has an issue, it can impact your entire infrastructure, leading to catastrophic outages. With that in mind, it's worth reaching out to your tech and integration partners to see how they're planning on managing Black Friday this year. Make sure they're aware of which days you're planning on running promotions so that they can have additional support in place, if necessary. 
2. Create contingency plans

As bleak as it might seem, preparing for a successful Black Friday also means preparing for your worst-case scenario. Website outages, fulfilment issues, shipping delays, staff sickness – anything that could possibly go wrong needs to be planned out and prepared for. 
The first point of call would be to shift your staff's hours around – especially across your IT and customer service teams – to make sure that your online store is covered for out-of-hours support issues. If you're an enterprise-level business, you'll probably need to hire additional staff to cope with the increased demand. 
In case of any technical issues or outages, establish the points of contact with all your key partners – including your ecommerce platform, ERP, WMS, and your logistics partner. That way, if something does go awry with one of your systems, your team knows exactly who to call. 
Warehouse and shipping services are the most impacted by surges in orders, so make sure you create contingency plans here, too. If you outsource your fulfilment services, find out what your warehouse or logistics partner's contingency plans are, and share that information with the relevant teams. 
Don't be afraid to communicate delays to your customers. If your shipping times have been impacted by the pandemic, make customers aware of this upfront, and give them a rough estimate of how long they can expect to wait for their order. Not only is this better from a shopping-experience perspective, but it also stops your customer service team from being overwhelmed with complaints!
3. Make it relevant 

2020 has been a year like no other – which means your old tried-and-tested marketing campaigns aren't going to do the trick this time around. To get the most out of your sales this Black Friday, you need to position your marketing in the context of the year. 
In a strange way, drafting relatable messaging has never been easier. Never before have your entire audience (and beyond) been in the exact same boat, the exact same set of circumstances. Because this is the year of staying in. Of self-care, home improvement, investing in hobbies and creating a space to weather the storm. Of practicality over fashion and comfort over style. If you can use these themes as springboards for your marketing messaging, you're onto a winner. But remember – keep it sensitive! 
4. Keep it personal 

Your audience is likely feeling a little more isolated than usual this year, and many will be missing the experience of in-store shopping. That's why it's important to make your customers feel extra special. 
A blanket, site-wide sale isn't always enough. If you can, reach out to your repeat customers with offers personalised to them – based on their shopping history, their wishlists, or products they've viewed recently. These targeted approaches not only have a much higher conversion rate, but they make your customer feel valued. 
To make these offers work, start promoting them a week ahead of the actual sales. Remember, not everyone cares enough to mark Black Friday in their calendar – so make sure you get the word out in plenty of time. But be careful not to spam your customers with offers. A few personalised sales emails over the course of the week are much better than a barrage of generic promotional emails.
5. Embrace the trends 

Never has the industry seen such a drastic shift in consumer trends as in 2020. Categories like luggage and fashion, particularly occasionwear and holiday clothing, were hit massively by the pandemic, leaving brands with warehouses full of spring and summer stock. Meanwhile, homeware, loungewear, lifestyle and wellbeing sales all soared as consumers adjusted to life in lockdown. 
According to Shopify, the top-trending product categories in lockdown are: 
Indoor and outdoor furniture 
Home office equipment and accessories 
Board games and puzzles 
Exercise equipment
Self-care and beauty products
Leisurewear
Although you might want to focus your discounts on your traditional bestsellers, as well as any unsold stock, it would be remiss for brands not to include at least some of these thriving categories in their promotions this year. If you can, incorporate these shifting trends into your Black Friday marketing campaigns. It's a great year to have a push on pyjamas and scented candles! 
6. Clever cross-selling 

Cross-selling is an easy, incredibly simple way to improve your conversions and increase your average order value. If you're not already utilising cross-selling techniques, now's the time to do so. 
The easiest way to win at cross-selling is through product recommendations, such as a product-page carousel that showcases similar products to the one the customer is viewing. For fashion brands, one of the most effective ways to cross-sell is to have a 'Complete the look' section on product pages, giving customers a chance to buy coordinating or complementary items. To go even further, you could offer personalised recommendations based on your customer's purchase or viewing history, creating a shopping experience that's entirely unique to them. 
Source: Nosto
Luckily, there are dozens of apps designed to automate this kind of product recommendation and content personalisation. When working with Shopify merchants, we recommend Nosto, which is designed to integrate seamlessly with Shopify stores. 
7. Highlight your returns policy 

Showcasing your returns policy is always a good idea, but this year, it's more important than ever. With another national lockdown in place, customers will be keen to know how flexible your brand is with returns. Are you extending your returns window? Do you charge for returns? How long will a refund take? By addressing these questions prominently on your site, you'll be able to reassure potential consumers about spending with you in lockdown. 
Black Friday weekend 2020

Despite the uncertainty, there's still plenty of potential for a whopping Black Friday this year. To make the most of all that extra online traffic, make sure you prepare early, create backup plans, and be smart about your discounting. Happy selling!
This year's Black Friday weekend will commence on the 27th of November 2020.