Feb 15,2013 Juno Ecommerce
Juno works for Rose & Grey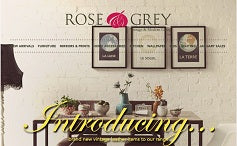 Here at Juno we don't like to brag (OK, so we do a little bit), but when something works we want to let you know about it. That's why we thought we'd take a look at our campaign for Rose & Grey, with this quirky, vintage-style interior design and home accessories brand really benefiting from our expertise.
It's the design of the site as a whole that we're particularly proud of. We think it perfectly reflects the ideals of the brand, combining sleek and contemporary design features with a vintage edge, with everything working together to offer the ideal combination of aesthetics and functionality. Plus, because we've utilised the Magento platform the site can benefit from ecommerce at its best, easily meeting the expectations of shoppers whilst offering a functional and easy-to-use system for the client.
Then, the latest newsletter template. This is a high-end brand and we wanted to reflect that in the newsletter, particularly as email marketing can have such an impact on engagement and sales figures, and that's why we've focused on making it as sleek and appealing as possible. We've incorporated crisp, clean photography to really showcase the products at their best and have worked hard to ensure the newsletter is perfectly suited the design of the website (the same logo, similar fonts and layout, etc.), with consistency being vital to any email marketing campaign.
Of course, the proof of our success is always the happiness of the client, and we're pleased to say that Rose & Grey is a company that's thrilled with the results. The site is performing incredibly well and the wider marketing campaigns are proving successful too, and the client loves the design and the overall look of the site. And, it's not over yet—2013 will see further expansion and increased functionality which means Rose & Grey is a company that's only getting better, so watch this space to see what we can do next…