Feb 03,2021 Juno Ecommerce Design Development Ecommerce Marketing Shopify
Satmap moves to Shopify Advanced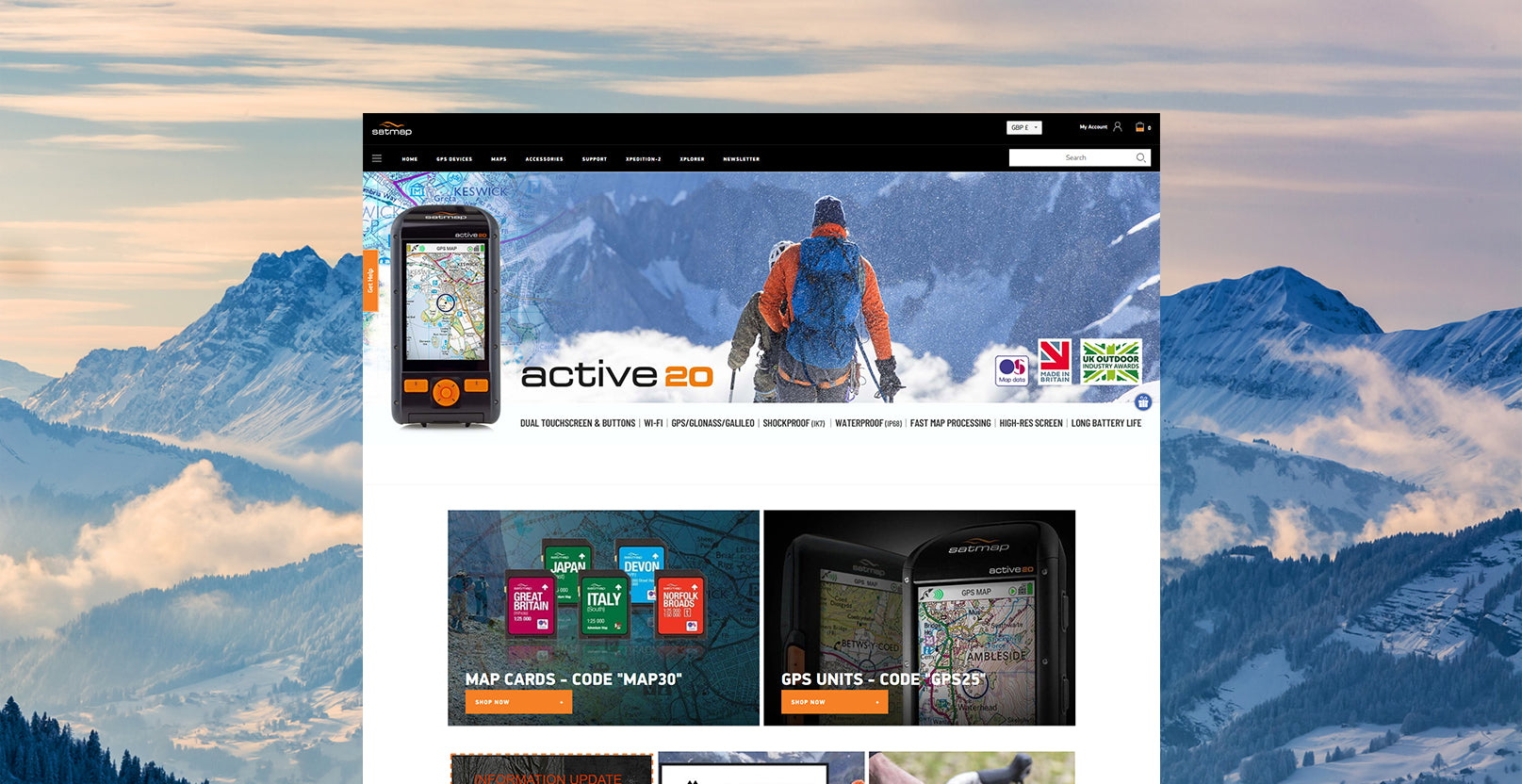 Another day, another exciting launch from Juno HQ! We're thrilled to announce that Satmap are now live with their brand new Shopify Advanced store. 
Founded in 2005, Satmap are a British-based GPS brand, famed for their award-winning navigational systems. Specifically engineered for outdoor enthusiasts, these handheld GPS devices are must-haves for walking, hiking, cycling and off-roading. 
With their Magento 1 software at its end of life, Satmap needed to swap to a new platform. But the team wasn't looking to upgrade to a newer version of Magento. Wanting a customisable, easy-to-use system they could manage in-house – with minimal development overhead – Satmap opted to re-platform Shopify Advanced. 
Re-platforming from Magento 1

When it comes to re-platforming, some companies are ready to throw out the rulebook and build a new brand from scratch – with new style guides, themes, fonts, and even new language. But some brands are just looking to jump ship, and need a technical liferaft to help them make the move. That's what we did for Satmap. 
Faced with a floundering Magento 1 site, we re-platformed Satmap to Shopify Advanced. Perfectly tailored to the brand's level of steady growth, Satmap's new store gives them the flexibility and functionality they need to tackle a new year of sales.
Satmap's move to Shopify is part of a long line of updates from Bollin Group, the owners of Satmap, Mountain Equipment, Ronhill, Sprayway, and a multitude of other outdoor brands. Aiming to make their online stores scalable, transactional and easier to run, Juno has been working with Bollin Group to bring these thriving brands over to Shopify. 
An integration with Visual Next

To streamline their operations and keep data flowing through their systems, Satmap's Shopify Advanced store is integrated with the brand's ERP, Visual Next (CGS). Powered by our sister company Patchworks, Satmap's integration automatically syncs essential business data between Shopify and Visual Next – eliminating the need for manual data inputting. 
With fewer resources lost to needless data entry tasks, Satmap can focus on making 2021 their best year yet. 
Juno + Shopify Plus

Whipping up good-looking sites that dazzle customers is our day job. From bespoke themes to animated features, we build websites that encompass and celebrate your brand. And with ongoing design, marketing, SEO and growth support, we'll keep taking care of your site, even after your launch.
Got a project you'd like to discuss? Get in touch here.