Jul 09,2019 Shopify API Design Development
What's new for Shopify? Takeaways from Shopify Unite 2019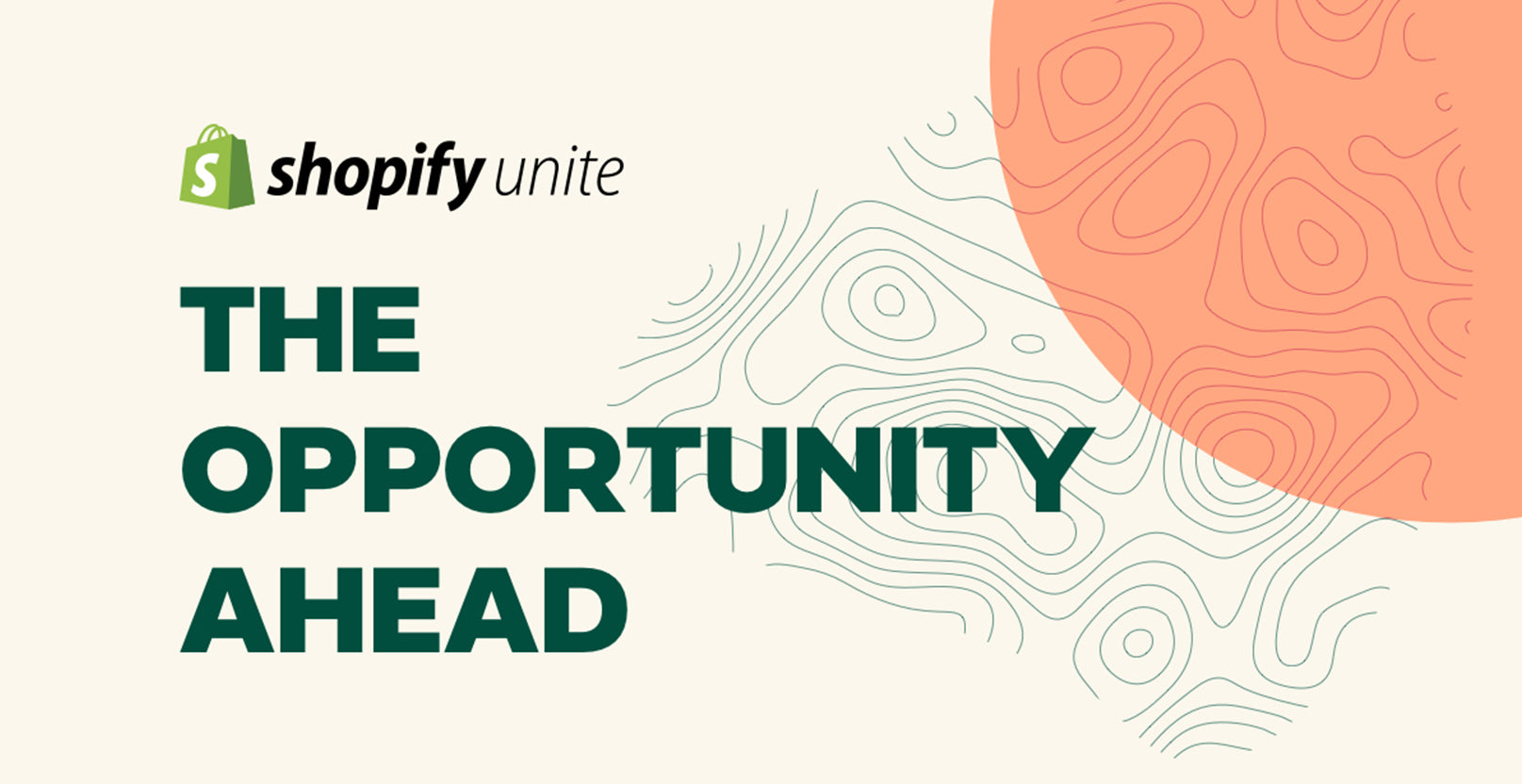 The 18th of June saw Shopify Unite kick off over in Toronto. Alongside boat trips and plenty of maple syrup, two of our finest went over to find out what exciting features Shopify is planning to release over the next year.
In case you didn't make it, here are some of their key takeaways from Shopify Unite 2019. 
Support for video & 3D models
As technology advances, ecommerce sites are increasingly closing the gap between shopping online and the experience of going to a physical store. Now, Shopify is making it easier for merchants to bring the online experience alive. 
Launching in late 2019, Shopify's product section will soon natively support video and 3D model assets, allowing merchants to provide shoppers with a more immersive online experience.
Using either the new Shopify video player or Shopify's AR viewer, you'll be able to easily deploy videos and 3D models to your product pages. This function will be built into Shopify's starter themes, but brands on a custom-built theme can easily add the function manually. 
What's more, Shopify is also opening the floor for developers to create apps and integrations to extend the way merchants can create images, videos and AR experiences. So, it's likely they'll be a host of exciting Shopify apps launching over the next year!
It's getting easier to customise your store
Coming later this year, Shopify is extending their drag-and-drop editing functionality to work across your store. Currently only available on the homepage, this customisation tool is one of Shopify's USPs, and makes it easy for you customise your site without using a single line of code. 
Although Juno Shopify stores already enjoy drag-and-drop editing across their site, it's great to see Shopify rolling it out for the rest of their clients. 
Shopify is also introducing a new workspace to draft and experiment with changes to your store. Once launched, you'll be able to edit your store freely and preview the updates before setting them live. 
New loyalty options for retail stores
Loyalty rewards are one of the best ways to keep your customers coming back. That's why Shopify has made it easier to reward customers in your physical stores as well as online. 
With a range of new Shopify POS cart app extensions, you and your staff can now add discounts directly from your checkout screen. You can also see information about your customer from your POS app, meaning you can use details about their birthday or their reward milestones to create impromptu moments of delight for your customer – regardless of whether they're shopping in-store or online. 
Custom storefront tools 
Another thing Shopify covered at Unite was how some brands have been using the platform's storefront API to enable headless commerce, effectively decoupling the front end of a site from the back end. With these custom storefronts, you're free from back-end restrictions, making it possible to interact with your customers in new, interesting ways. 
Having this flexible architecture means your development teams can be more agile, creating and innovating different customer experiences with things like games, voice shopping, progressive web apps, dynamic blog content and customisation tools.
If you're looking to experiment with custom shopping experiences, the rise of headless commerce means there's a wealth of inspiration out there. Although Shopify has had custom storefront tools in place since 2016, 2019 has seen some new additions to the storefront API, including access to Shopify Scripts, product recommendations and metafields. 
More support for selling internationally
Following last year's announcement of a multicurrency beta test for Shopify Payments, multicurrency is now officially rolling out, and will be available globally by the end of the year. 
You can learn more about Shopify's multicurrency feature here. 
Alongside this launch, Shopify is also making the platform available in 11 more languages, allowing stores to connect with an extra two billion non-native English speakers worldwide. The new languages available are Dutch, Simplified Chinese, Traditional Chinese, Malay, Hindi, Swedish, Danish, Finnish, Norwegian, Korean, and Thai. 
Introducing the new Shopify Plus
In a long-awaited move for brands that want to ditch Magento, Shopify has announced the release of the all-new Shopify Plus, due later this year. 
One of the biggest disparities between Shopify Plus and Magento has always been Shopify's inability to manage more complex businesses, especially those with multiple stores. Currently, Shopify Plus merchants have to manage their different stores through separate Shopify platforms, which makes operating a multi-store brand extremely difficult. But once the new Shopify Plus rolls out, brands will be able to manage all of their stores from one place. This will make a huge difference to brands that operate internationally through separate, localised stores. 
Aside from making things easier from a reporting and insights perspective, multi-store management also means you'll be able to copy workflows across your stores, meaning you won't have to do the work several times over. 
You can sign up the new Shopify Plus beta here. 
Shopify Fulfilment Network 
Providing a great online experience for your customer is only half the battle. The rest comes down to getting those products to their door, on-time and without error. That's why Shopify has decided to go one step further with their ecommerce platform.  
To make it easier for growing brands to deliver on their promises, Shopify is launching the Shopify Fulfillment Network. Designed for businesses shipping between 10 and 10,000 orders a day, the Shopify Fulfillment Network sends products to your customer in a simple, affordable way. 
With a dedicated network of fulfilment centres, Shopify's new logistics service will remove the complexity of outsourcing your delivery needs. It also means you'll be able to view all your order and inventory data from your ecommerce platform, rather than navigate through different back-office systems. 
Although not yet available in the UK, qualifying merchants in the US can now apply for early access to Shopify Fulfillment Network. 
What's next? 
We're hot on the heels of all the latest Shopify updates. Keep checking back for more news, advice and inspiration to help you get the most out of your Shopify platform.