Feb 26,2013 Shopify API
Discover China gets an update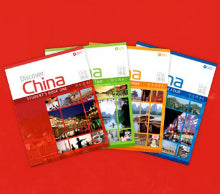 Web design is constantly changing. New trends emerge and new constructs become the norm, and with consumers' expectations only ever increasing it's vital for websites to keep up unless they want to get left behind. That's where we come in. We like to take a proactive approach to ensure sites are as modern and functional as possible, and Discover China is just one site that's been given the Juno Web Design treatment to bring it bang up to date.
Discover China is part of the Macmillan Publishers umbrella, being a language course specifically designed to offer a communicative approach to learning in order to help students become confident Chinese speakers. But, the previous site did it no favours. It was Flash-based which posed numerous problems—it was old fashioned, awkward to manage content, couldn't be accessed on all mobile devices (with Flash not being compatible with the iOS operating system) and delivered no SEO benefit whatsoever, so it was definitely time for a change. Cue Juno…
We took the old site and gave it the update it desperately needed. We've designed it from the ground up using the Wordpress platform as a starting point, meaning content has been effectively pulled together and will be incredibly easy to access and manage by the client. It's this level of functionality that makes all the difference—we knew the client had difficulty managing content with the previous incarnation but this new one makes things much simpler, and of course, it's great for the reader too. Everything works together and is a lot more functional, streamlined and easy to manage from every angle, so if you think your site could benefit from a bit of a revamp make sure to get in touch and we could help you experience the same kinds of results.