Jan 15,2020 Juno Ecommerce Design Development
The top 7 digital marketing trends of 2020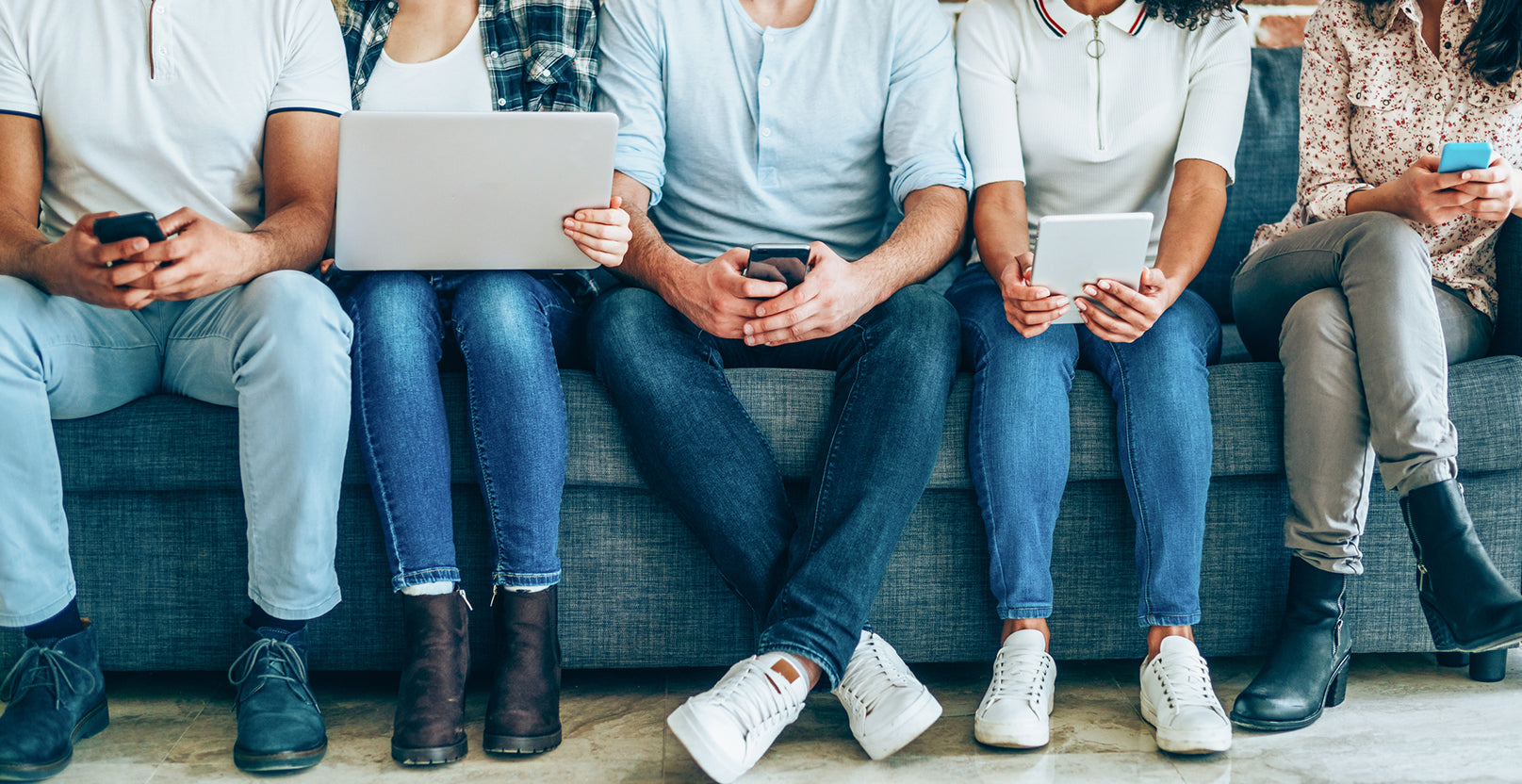 It's that time of year again! The time we reflect on the marketing trends of the past 12 months, how they compared to predictions, and what we can expect from the year ahead.
Voice search, augmented reality and artificial intelligence dominated the trends lists last year, and these are still some of the most prevalent digital innovations shaping how we consume and engage with content. But with our shifting social consciousness and the arrival of 5G, 2020 throws us a few more marketing trends to be aware of.
Without further ado, here's our roundup of the top seven digital and general marketing trends to take note of in your 2020 strategy.
1. The arrival of 5G
Yes, it's finally happening. 
After more than a decade in the works, 5G officially arrived in the UK in May 2019, with networks racing to be the first to offer the next generation of connectivity. Since its launch, over 70 towns and cities have rolled out 5G coverage from at least one network provider, with dozens more planned for 2020. 
The widespread adoption of a faster, more reliable network means we'll finally be able to see the true extent of what 5G can do. And it's not just mobile users who will see the benefits. With a more robust network, 5G will allow businesses to be more secure, productive, and to launch new products faster.
In the wider world of tech, 5G will also help speed up the development of things like smart cities, autonomous vehicles and remote control machinery. By supercharging Internet of Things (IoT) technology, 5G is set to unlock the doors to a smarter, more connected world.
"Right now, I'm excited about what 5G will bring to the future of live entertainment. A faster, more powerful connection unlocks a more social, frictionless and immersive fan experience while presenting a powerful opportunity for deeper engagement between fans, artists and brands."
Kevin Chernett, EVP of global partnerships and content distribution, Live Nation. Source: Adweek
2. Micro influencers
In the last decade, driven by the rise of Instagram and YouTube, influencer marketing has exploded. According to Business Insider, it's set to be a $15 billion industry by 2022 – so it's no surprise that more and more kids are listing 'influencer' as their dream career. 
But in a woke, culture-savvy world, users are growing weary of big-name influencers with hundreds of thousands of followers. They know that you can't get abs from detox tea.
Enter: the micro influencer. 
Micro influencers are essentially influencers with a smaller audience (normally thousands to tens-of-thousands of followers). Although their reach is smaller, they're much cheaper to work with. Plus, with a highly engaged audience, you get more bang for your buck. 
Because micro influences aren't generally living an A-list life by a pool in LA, they feel a lot more relatable to users than traditional influencers – and a lot more trustworthy. Rather than someone with an aspirational celebrity status, they feel more like a friend. So when they recommend a product to you, you're much more likely to listen. 
3. Speed will be more important than ever
It's hard to overstate the importance of site speed. It impacts everything from SEO rankings to conversion rate and user experience – and, with faster-than-ever networks, our patience is getting shorter and shorter. Really, it seemed site speed couldn't get any more important. 
But it did. Or, at least, it will. 
In November 2019, Google's Chrome team announced they were working on a badge system to identify and label sites based on their speed.  
"In the future, Chrome may identify sites that typically load fast or slow for users with clear badging. This may take a number of forms and we plan to experiment with different options, to determine which provides the most value to our users."
Addy Osmani, Ben Greenstein and Bryan McQuade from the Chrome team
Although site speed has long been used as a ranking factor by Google, this update would mean you're not only penalised for having a slow website, but potential users will be warned away from clicking through to any site that is "authored in a way that makes them slow." 
Although there's no consensus on if and when this update will come into play, it's definitely one to keep an eye on in 2020. 
4. It's all about video
Video marketing isn't anything new or revelatory – but it is big, and it's getting bigger all the time, so we'd be remiss if we left it off our list. After Google, YouTube is the most visited website on the planet. The tech giants at Cisco predict that video will represent 80% of all internet traffic by 2021.
So, how can you capitalise on this?  
When planning your 2020 strategy, think about how you could put more of a focus on video. One easy way to win big with video is to use it to answer a query about your product or industry. For example, if you're an outdoor clothing and equipment brand, you could make a video about how to pitch a tent. Because Google surfaces these kinds of helpful, informational videos to answer users' queries quickly, it's a great way to boost your brand's visibility. 
With today's smartphone cameras, producing great video content is easier and cheaper than ever – all you need is a decent phone and a designer who knows their way around Adobe Premiere Pro. Start by playing around with some short videos on Instagram or Facebook, and go from there. 
5. Cultural impact
The last few years have seen a steady, seismic shift in how people shop – a trend that's perfectly encapsulated by the outrage Missguided caused by releasing a £1 bikini last summer. In 2020, we can expect customers to be even more conscious and intentional with their purchases. The environment, sustainability, attitudes to animal testing, and employee welfare are becoming increasingly important to shoppers, especially when it comes to brand loyalty and repeat purchasing. 
It's important to start thinking about how you can stay on the right side of this trend – but it's also important to be honest. Alongside an increasing amount of brands donning the labels 'natural' and 'sustainable', there's a growing disdain for businesses that don't follow through with these promises. 
Making sure your brand leaves a minimal – if not a positive – impact on the planet shouldn't just be about adding the word 'sustainable' before your products. Think about what you can do to genuinely make your brand more ethical, whether that's using packaging made from recycled materials or ditching animal testing. 
Once you've made some real strides in minimising your brand's environmental impact, start talking about it on social media. Publish a blog post outlining your brand's green strategy, and ask for suggestions about ways you can be better. By being open and authentic about your sustainability goals, you'll be able to build a loyal, trusting customer base. 
"We have a tremendous responsibility not only to our brands but also to our consumers. … We have the ability to bring people together, diminish divisiveness, and celebrate inclusion. And by amplifying those messages, we are in the driver's seat to influence a culture that is truly about inclusiveness and connectedness."
Lizette Williams, head of U.S. cultural engagement and experiences, McDonald's Source: Adweek
6. Employee satisfaction
Following on from the importance of cultural impact: employee satisfaction. While it's not exactly a new concept, the shift towards ethical brands means more attention is falling on how businesses treat their employees. And, from the sexual harassment cases at McDonald's to the low pay at Waterstones, brands consistently seem to be getting it wrong. 
What businesses often forget is that their workforce – whether that's thousands of people or just a couple dozen – hold untapped marketing potential. When employees like and feel respected where they work, they're much more likely to shop there, to recommend it to their friends, and to share the brand communications on their social media. They're also more likely to treat customers with a positive, helpful attitude who, in return, are more likely to stay customers if they can see that staff are happy. 
This kind of good press will help your brand grow organically, and it doesn't actually cost you anything (except your employees' salaries). So, in 2020, consider having a sit down with your employees, and ask them how you can make their working lives better. 
7. Focus on the flywheel 
Remember the marketing funnel? The one all marketers can see whenever they close their eyes? Scrap it. There's a new tool in town: the flywheel.
Coined by Hubspot, the flywheel addresses the traditional funnel's fatal flaw: that it views customers as an afterthought. As they illustrate, "funnels produce customers but don't consider how those customers can help you grow. That's where the flywheel comes into play."
Source: Hubspot
Similarly to the funnel, the flywheel breaks the customer journey down into stages: attract, engage, delight. But, unlike the funnel, the process isn't linear. The flywheel puts a focus on ongoing customer engagement and interaction, building momentum and using those customers you worked so hard to get to drive your brand's future growth. 
Just like having happy employees, happy customers are invaluable in your marketing efforts. Make them the centre of your marketing in 2020 – not just the thing you're trying to get more of. 
How does this compare with last year's trends? 

Who decided these seven trends were the top? We did. Because we're mad with power. But there's no doubt that these trends are having a moment – and will continue to have many more moments as the year goes on. 
Want to see how these trends compare to last year's? Check out our blog post on the top digital marketing trends of 2019.